There's no such thing as casual 'friends'
Barry Bright
June 16, 2007
Calling them what they are isn't 'name calling.' It's reality.
It's that word that's so overused today. Every MySpace type website has them. People who post a cute picture and a few words of PC positive encouragement or some other phrase that goes along with that site's theme. They're your "Friend."
But what does it mean?
There's a bumper sticker out there that reads thusly: 'Friends help you bury the bodies.'
My version: "Real friends help you make the bodies and bury them."
Let's look into our future, and the ultimate way to determine who our friends really are:
It's 3 A.M. Your dog barks. It's not that 'coyote bark,' or 'stray cat bark' or "I just feel like barking bark." It's that "Somebody or something is approaching our space and you need to get your ass out of bed bark."
Then you get really lucky. The team of black-suited Nazi whores who've been sent to dispatch/arrest another gun nut who didn't comply with the orders to 'turn them in' or 'register them' because some lowlife scumbag "Liberal" neighbor found out you weren't compliant with their little version of reality is stopped or slowed at your door or before.
If you're exceedingly lucky one or more of them are squirming on your living room floor. Good, now you have hostages. You can demand communication with the outside world if they disabled your phones or other forms of communication.
After the first round goes down range they will be fighting for their comrades in black. What little ideology or feelings for Liberty they might have will be secondary, if it exists at all. If it had existed in their hearts in any real measure they would have killed the individual(s) who ordered them to your house and they would be calling you to find out what kind of 'friend' you really are.
Since you fought back, they will do all in their power to kill you. The black flag will wave. Your family will be what the military calls 'collateral damage.' And some "Liberal" piece of garbage that's lived down the road from you all your life will have voted for it to happen, knowingly or not.
Scenario two: The sheeple here in the land of the cowardly and the apathetic allow a government of lowlife scumbag "Liberal" politicians to pass a law saying you can't shoot or harm someone who's breaking into your home, like in Britain, where that farmer did more prison time than the burglar he shot.
You call your 'friend' at 3 AM: "Roger, I need you to come over."
"Uh, it's 3 AM, why?"
"I just really need you to come over."
"But why?"
"Uh, my pipe busted in the basement, there's water all over the floor."
"Uh, OK."
Roger arrives a few minutes later, sees the 'water damage' you really have, freaks out, and A. Leaves, or B. Helps you deal with your mess and then or later goes to the 'authorities' because his PC indoctrinated in Big Brother love 'conscience' bothers him and the fertilize you applied to your trees gets dug up and you find out that a man's home isn't really his castle.
There's Bubba, your NASCAR buddy. You never miss a day talking with him about the 'next big race' or the driver who wrecked last time. But he's squishy on Liberty, OK, he's just plain stupid, apathetic, like most of the sheeple. So one day out of the blue, maybe during a hunting trip, or while plinking down at the dump, you simply ask him, "Could I depend on you?" in any of the above situations.
I mean "Will you gather our 'friends' and surround the surrounders at my house and pick them off like the colonial militiamen did to the British soldiers on April 19, 1775?
Now Bubba has sort of a smidgen of common sense and watched some John Wayne movies growing up and maybe has some sense of the concept that there has to be a line, and it has to be cut in stone, deeply enough to carry the blood away.
So he answers thusly, "Yeah, sure dude. I'll be there, with bells on." But that's the end of the conversation and neither of you bring it up again.
Now you're at the office, or the factory, or wherever you waste your time in exchange for money, and you're talking flirtatiously with the boss's secretary. Nothing serious, you're married, or she, or both, and her and your wife are shopping buddies, or prayer group partners, or, you know, woman stuff.
Now the secretary has been at your house, many times. She's not entirely approving of the way you teach your kids to shoot, or that you keep a loaded weapon handy in case you need it to defend your Liberty, family, property, but she's certain that when that wonderful guy/gal she plans on voting for next fall asks you ever so kindly to 'turn them in' you'll be a good sport and comply.
BZZZZZ. Wrong answer.
Five days after the deadline to 'register/turn them in' she's at your house and one of your kids blurts out some kind of indication that maybe daddy and mommy don't love Big Brother enough to let some child raper have their way with the kiddies until the police arrive. Or maybe the secretary 'friend' just calls several times and gets suspicious as to why she hasn't been invited over lately.
Of course in her little indoctrinated, or evil, take your pick, mind, she has to 'do the right thing.' Thus we have the scenario we started with and the original question: Is she really your family's 'friend' when she doesn't share your most core values? But you go to the same church. So? Do you blindly trust everyone at your church, or any other social function?
So then who're ya' gonna' call? Ghostbusters? Your "Liberal" friends from wherever?
Let's ask them a few basic questions first:
1. Have you ever or would you vote for a candidate because that candidate supports some kind of 'social program' you like even though that candidate is pro 'gun-control.'
2. Do you believe in 'reasonable' or 'common sense' gun control? You know, the kind that just infringes on a little of our Liberties? Like requiring us to prove we aren't 'criminals' before we defend ourselves or that tells us we only need a single shot shotgun for rabbits in our garden, for those who have a garden that is?
Let's lay a ground rule here: All 'gun control' is about conditioning the sheeple to accept further control until full confiscation is achieved. Britain proves this. The Australian government actually ran ads in mainstream publications stating that 'self defense is no reason to own a gun.' There are sheeple next door to you who would blindly/stupidly accept this.
Statements by many "Liberal" politicians proves their ultimate goal - civilian disarmament so we can't fight them. Anyone who argues otherwise is your blood enemy and should be looked upon as such, whether they argue from ignorance or from full knowledge of their evil.
3. Do you believe that the needs of the community trump the rights of the property owner in all instances? Now this is not about building roads or malls. This is about 'saving the Earth,' the most recent communist cause. In other words, does the government at any level have the right to dictate land use policies that don't affect the real health of neighbors and future landowners? Defining 'real health' is of course like defining 'general welfare.' Let's leave that discussion for another place and time.
4. Do you understand the concept that when you vote for some piece of garbage who wants to disarm me by sending some prostitutes with badges and guns to enforce your stupidity/evil that you have voted to kill me and thusly I have the right, on the day that I'm told to 'turn them in' to show up at your house and kill you first because your actions were essentially a declaration of war against me?
Of course at this point, if they haven't already, your "Liberal" so-called friends will get that 'deer in the headlights' look in their eyes and A. Avoid speaking to you for any reason. B. Begin plotting to get you fired or C. Call the local sheriff and tell him how scared the local gun nut made them.
The bottom line to all this: Anyone who thinks they have a "Liberal" friend needs to disengage their head from their nether regions. They put their twisted socialist/collectivist ideology above your Liberty, your life, your family, your property whether they're smart enough to know it or not.
Lot's of ignorant 19 year olds get killed in wars.
There's no such thing as a "Liberal" friend. They will steal from and kill you, either with their vote or with their trigger finger. Yes, that means not all of them are pacifist idiots. They will kill to enforce their police state on their neighbors. Just because they swore off violence after the Weathermen and other 'leftist' groups of the 70s stopped bombing doesn't mean that when/if they're defeated politically they won't return to their violent revolutionary ways.
But then maybe if that happens we'll have about half the govt. forces on our side. Maybe not.
Now the combat rules: If you do stupid things that cause the Nazis to show up at your house, don't expect us to. Don't run down the street in 1943 Berlin screaming "I'm a Jew and I have a right to be a Jew." The black suits don't care what you think your rights are. Their primary mission is to get home at night.
Why? Because in 1776 the power elites and aristocrats of the time were behind the revolution. Now they are the oppressors and the bureaucrats and the cogs in the machine. Very few of them, at least at first, will endanger their mortgages, careers, marriages, toys, hobbies, 401k's, etc. They are whores. They will gladly watch the black suits swarm over you and celebrate that another extremist has not been allowed to burst their never land bubble.
Only three to seven percent of the colonial population fought in the first American Revolution. The rest sat back and watched, tried to profit from it, or just tried to stay out of the way. It was also a true civil war. Many Tories left for Canada or Britain after they lost their cause. We need to be encouraging "Liberals" to do the same.
The word Liberty is on all our coins. Is it just window dressing? Or does it have some meaning left for the citizens of the modern empire of note? The word 'militia' is in the Second Amendment. It includes all 'able bodied males' of a certain age. In reality it includes what few Americans are still capable of giving a damn.
"Give me Liberty or give me death" didn't mean the Founders were going to blow their brains out if the British didn't leave. It meant they were going to blow British brains out.
If the time is forced upon us give them every opportunity to die for their evil.
Is any of this likely? Are there hard corps authoritarians among the Demoncrats and Republicrats who'd be happy to sic the black-suited Nazis on the sheeple who aren't sheeple? You damn right. Do they have the numbers to do so in the near future? Even with another so-called 'terrorist' event, that will eventually come? You damn right.
There have been many successes in recent years. There are many websites and blogs now where one can go to keep track of them. Only in the last few days have our blood enemies had something to brag about. That's because of the treason of one of our biggest 'pro-Liberty' groups.
Are you a member of the NRA? No, I'm not promoting them. On many occasions they have been part of the problem, since compromising with "Liberals" is like dancing with the devil. You don't change him, he changes you. When you dance with "Liberal" scum you only move in their direction. If not they wouldn't be dancing. They'd be lined up like political wallflowers whining about 'partisanship.'
Have you ever thought to ask the NRA what their response will be if/when we're told to 'register/turn them in? I have. I got no answer. Would you? Why don't you try?
There will not come a day when the authoritarians among us throw up their hands and say "Oh well, we were wrong, sorry. We're sorry we tried to shove our collectivist garbage down your throats at the point of a government gun. We're going home now to live in peace and Liberty with our neighbors."
Can some of them be converted? Of course, many already have. Some of the best patriots I've met are former "Liberals." Or maybe they're acting.

Remember: The stupid you shall always have with you. And keep a shovel handy.
Pass this out to all the sheeple and 'Liberal" friends you think you have. Most of them won't understand it, or will try to have you arrested. But that tiny percentage just may show up some day when you really need them.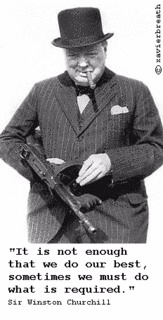 Blacksburg

Willowtown Photography Home